Copywriting that sales people can actually use
5th July 2016 | Posted in Content creation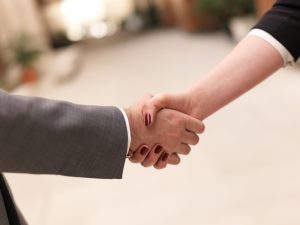 Marketing people can give great briefs to copywriters. They really can. They've got a product or service to promote. They've researched its advantages and benefits for customers. They know who the customers are and something around their needs and aspirations. It's all good.
So marketing build a campaign that includes maybe direct mail marketing, articles, case studies, white papers and brochures that sales teams can use to support their conversations with current and potential customers. Or some blogs and tweets that can pull visitors into the first stages of the sales process.
Again, all really good.
But what constantly surprises me is that marketing often forget to ask sales what they actually need.
Instead, they present the sales teams with the complete set of marketing tools that marketing believe sales will value. And then sales don't use it. Because it doesn't work for them.
How depressing for marketing and frustrating for sales. As well as bad for business.
How can we fix it?
One way would be to consider sales as a customer of marketing and build personas of the sales team.
That should be quite easy to do as they work in the same business. So what drives the sales team? What barriers do they face? What makes them excited?
The drivers are very likely to be about meeting targets and growing accounts. The barriers – especially in introducing new products and services – are likely to include lack of time to get to grips with what's on offer and how it can benefit a particular customer.
Importantly, sales teams may have strong preferences about the type collateral they need to support their work.
External communications that customers want
Many organisations will already be working with personas of their ideal customers. But they're not working if, for example:
Marketing create a really nifty series of at-a-glance product flyers but established customers are looking for nitty-gritty technical detail in white papers.
Marketing deliver beautifully crafted generic brochures and case studies, yet sales teams are industry focused and they want collateral that relates far more closely to the industries they serve.
Marketing build concrete business cases focusing on overall value while sales team have to talk to influencers across the customer organisation – all with their own priorities that haven't been addressed.
Marketing create well-thought-out direct and indirect marketing campaigns that apply to both potential and current customers, unaware that sales believe that they need a completely different approach to encourage them through the sales funnel.
Marketing spend time and effort creating a website that appeals to search engines. Sales teams argue that all that's needed is a presence. Moreover SEO is of no value because the company does all its business through referral and long-term relationships. And, what's more, they don't see any value in a blog or social media. (Discuss!)
Discovering these needs and acting on them may start to get complicated but is more likely to deliver the best results.
Internal communications to support sales teams
At the same time, by considering sales teams as customers too, marketing can develop internal communications that help sales to use the external communications more effectively.
These may include:
Quick reference guides, packed full of useful market statistics, bullet-pointed benefits and customer quotes, that are pocket-friendly
Anonymous customer references that customers won't approve for publication on commercial grounds but could still be shared internally, with caution
Well-crafted slide packs – complete with invaluable comprehensive notes – that can enable sales people to deliver presentations and demonstrations with knowledge and confidence.
What else? I don't know for sure. I've yet to ask your sales team.
Would you like help with your marketing and sales communications from an experienced copywriter who understands about business as well as words? Then please drop me an email at [email protected] and we can start a conversation.